On May 28, 2021, President Biden released his Fiscal Year 2022 Budget. The President's budget includes $6 trillion in mandatory and discretionary spending. The Department of Health and Human Services (HHS) budget proposes $131.8 billion in discretionary budget authority and $1.5 trillion in mandatory funding. It represents a 23% increase in spending compared to FY 2021 levels. The budget makes broad, expansive proposals to allow Medicare to negotiate prices for prescription drugs, expand Medicare benefits to include vision, dental, and hearing, lower the Medicare eligibility age, and create a public option. However, the budget does not provide specifics for developing these policies. Instead it calls on Congress to take these steps.
Next Steps: The House and Senate Appropriations Committees will begin their work which will continue throughout the next few months. While the House may adopt much of what the administration has laid out by a simple majority vote, the 60-vote threshold in the Senate means that final spending levels will have to be at a number where there is agreement. A continuing resolution (CR) to keep the government open before the fiscal year ends on September 30, 2021 is a near certainty. The process may face a stalemate for many months to come after that. Your UnityPoint Health Government & External Affairs team will keep a pulse on activities and share updates as they are released.
This summary highlights notable health policy provisions.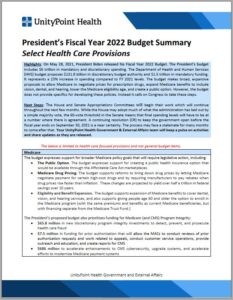 For more information on Federal advocacy, legislative, policy and regulatory issues of impact to UnityPoint Health, please contact Cathy Simmons, executive director of government & external affairs for UnityPoint Health or Stephanie Collingwood, government & external affairs specialist.