On Wednesday, March 24th, UnityPoint Health participated in the 340B Health virtual fly-in event. 340B Health is the national association that represents public and private nonprofit hospitals and health systems that participate in the 340B Drug Pricing Program, and the purpose of the virtual fly-in was to educate Congress on the program. UnityPoint Health was among 282 individuals that represented 45 states and met with 254 Congressional offices. Through this event, UnityPoint Health representatives will be attending 11 meetings with our Congressional delegation and we developed a handout to underscore the scope and importance of this program. Included in the March 24th were meetings with health care advisors from the offices of Senators Grassley (IA), Ernst (IA) and Johnson (WI) and Congressional Representatives Axne (IA), Bustos (IL), Feenstra (IA), Miller-Meeks (IA), and Pocan (WI). The day was a success! Due to scheduling conflicts, three meetings will occur in the next several days: Congressman LaHood (IL), Senator Baldwin's (WI) health care advisor, and Congresswoman Hinson's (IA) health care advisor. UnityPoint Health would like to acknowledge the efforts of its 340B champions:
Eric Briesemeister, CEO, UnityPoint Health – Jones Regional Medical Center
Nick Gnadt, Director Pharmacy-System Ambulatory Services, UnityPoint Health
Cole Juchems, 340B Pharmacy Coordinator, UnityPoint Health – Peoria
Dennis Kitzman, Pharmacist, UnityPoint Health – Waterloo
Erin Knight, Pharmacy Technician, UnityPoint Health – Des Moines
Troy Martens, COO, UnityPoint Health – Fort Dodge
Tammy Sharp-Becker, Pharmacy Coordinator 340B, UnityPoint Health – Des Moines
Cathy Simmons, Executive Director, External & Government Affairs, UnityPoint Health
Jozef Vonsak, Pharmacy Coordinator 340B, UnityPoint Health – Fort Dodge
Anne Webster, Nurse Practitioner, UnityPoint Health-Endocrinology, Diabetes, and Metabolism clinic at UnityPoint Health – Peoria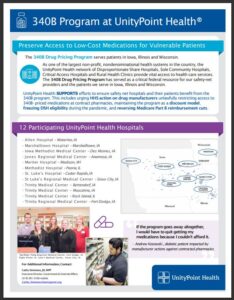 Click here for a larger view of the 340B Flyer >>
For more information on UnityPoint Health's 340B advocacy, please contact Cathy Simmons, executive director of government & external affairs for UnityPoint Health.